COVID-19 Stories: Paving the Path Forward
---
5/19/2020
Keeping the lights on
The challenge is getting through the door.
When the COVID-19 crisis hit, it posed a unique problem for accelerating efforts to make household energy more efficient and affordable. While solar panels can be installed on rooftops, electrical systems can't be upgraded without entering a house and interacting with a homeowner.
Contractors are avoiding that immediate health threat, but it jeopardizes their economic survival.
"We immediately realized all our contractors were at risk," said Anne Evens (pictured above), CEO of Elevate Energy, a Chicago-based nonprofit that works with contractors and entrepreneurs to create a diverse and equitable clean-energy workforce in the Midwest.
The urgent mission now, Evens said, is helping small-business partners survive the crisis and scaling up innovations to help the industry play an important role in the country's recovery.
So Elevate Energy -- celebrating its 20th anniversary this year -- is offering emergency loans, "side by side" assistance with federal stimulus applications, equipment upgrades, and help with modeling and remote home-energy assessments. It's digitizing paperwork, doubling down on training, and listening intently to communities' needs to better advocate with policymakers.
Among its partners is WindSoleil, a 5-year-old renewable energy company. The Chicago-area business was impacted by COVID-19 and had to lay off a number of staff. However, despite the setback, WindSoleil is committed to carrying out its mission of providing people with affordable renewable energy options, "so that communities and the people within them can be energy self-sufficient."
"Like so many other companies, we're doing what we can," said Theodore Asafu-Adjaye, CEO of WindSoleil. "However, we are not discouraged. Now more than ever we can see the impact that we can make in our local communities and even globally, and we're committed to carrying out our mission."
Separately, Elevate Energy is delivering groceries to seniors and bottled water to people who lost service connections -- particularly in underserved communities of color, where it understood why the virus would hit harder, due to the underlying inequities it has long worked to alleviate.
For Evens, efficient and renewable energy is the solution to many problems exposed by COVID-19. That means partnering with companies like WindSoleil to help the renewable energy sector strive, not only solving climate and environment concerns, but reducing utility and housing costs, lessening health threats, providing job opportunities and building wealth in communities.
"It really requires us to accelerate the decarbonization of our economy," she said. "What we can be hopeful about is that there are solutions. We know what we need to do.
Safeguarding vets – and their own
Veterans were at risk. Often a bellwether of issues in higher education, they needed help with access to GI Bill funds and other financial assistance during the COVID-19 crisis.
So Carrie Wofford and her 10 staffers at Veterans Education Success, a nonprofit in Washington, D.C., had work to do. First, however, they had a grave concern closer to home:
Two of their own, an employee and another staffer's child, came down with the COVID virus – "a brutal illness," Wofford called it -- though both eventually recovered.
"Everyone on the team was really worried about both of them," Wofford said. "This is a scary time for everyone."
Nonetheless, her team pressed ahead with its advocacy for veterans and military families during the pandemic, undaunted despite their worries and despite having to work remotely, assembling only twice a week online.
They cut through clutter to push Congress to include GI Bill students in stimulus measures. They pressured the Veterans Administration to relax its aggressive student debt collection. They continued offering free legal advice to students (like the Navy veteran pictured above) as calls surged since more people were at home with more free time.
They even kept up their watchdogging: After a phone tip, a recent law school graduate on staff uncovered that for-profit colleges had ramped up advertising on Facebook and Instagram during the crisis, coaxing veterans and GI Bill students to enroll.
A draft of their report was cited in a widely circulated story about for-profit colleges trying to use the economic shutdown to revive their industry, despite widespread criticism that it graduates students with more debt than academic achievement.
"We're busier than we've ever been," Wofford said.
Upping the Census Count
Text messages and grocery store receipts?
That was not part of the expansive outreach campaign Joan Gustafson and her partners envisioned when they set out three years ago to persuade more Michiganders to participate in the national 2020 Census.
Squads of outreach workers were supposed to promote the critical, once-a-decade headcount, which determines where trillions of federal dollars will be spent on things like child-care and highway repair. Adding to the challenge? In 2010, Michigan had the lowest turnout among all states in the upper Midwest, only 67 percent.
But Michigan is under a stay-at-home order, like most states, and suffering one of the highest COVID-19 rates in the nation. So Gustafson, manager of Michigan's nonprofit census campaign and external affairs director for the Michigan Nonprofit Association, quickly led her team in a retooling that was creative and flexible, yet still sensitive and safe, given the crisis.
They doubled down on promos through social media. They produced videos for homebound children. They placed flyers in bags at food banks, and paid for ads on grocery store receipts, so families had the message right in their hands. They launched a text messaging campaign, knowing it could get tricky if people found it intrusive.
"It's been totally nerve-wracking, but we've been plugging away just hoping these new strategies are successful," Gustafson said. "I'm so proud of my team."
And then, the payoff, at least so far: Despite everything, Michigan has been among the top five states in the 2020 census response throughout April, and at one point was tied for second.
Going Virtual with Advocacy
The Minnesota lawmaker was surprised. On a Zoom session with a hundred people listening, a student with eight siblings and only half that many computers at home had a question for her.
How, she asked, was the state Legislature going to help students like her keep studying through weeks and weeks of untested distance learning?
The exchange took place during an annual advocacy day, only this year it was a totally virtual experience, due to COVID-19. EdAllies, an educational advocacy organization, joined the Coalition of Asian American Leaders in hosting panel discussions and small-group breakout sessions between stakeholders and legislators, including the governor and students.
When legislators held hearings on education issues, teachers and advocates testified from their living rooms, including EDAllies' policy manager Michelle Koffa (photo above).
"We've really had to shift," said Josh Crosson, EdAllies' executive director. "Advocacy groups have spent a lot of time thinking: What levers of change still exist?"
Their campaign unfolds as nonprofits everywhere brainstorm how to master virtual advocacy amid social distancing. Congress, legislatures and city councils are meeting remotely, if at all, and more conversations may be taking place over the phone or in virtual backrooms.
EdAllies quickly narrowed its agenda to issues that are "authentically" related to COVID-19, Crosson said — making sure the crisis and response don't add to existing racial and economic disparities in education, and making sure classroom standards aren't lowered.
His hope is that some of the virtual advocacy sticks after the crisis, if it works. "Normally, we spend a lot of time traveling to different meetings," he said.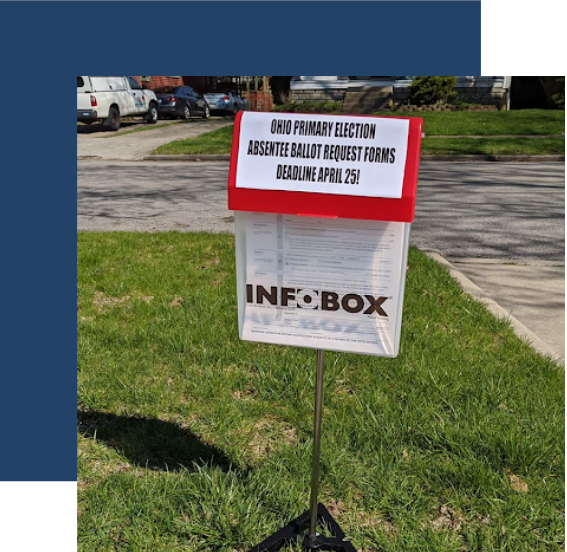 Nailing the Ballot Question
Is 2020 the year of mail-in election ballots? In Ohio, they now sprout from trees.
The Ohio Voter Rights Coalition ramped up after the Buckeye State's March primary was abruptly postponed because of COVID-19 concerns. It meant barely a month to mobilize voters for a new, vote-by-mail April 28 primary when everyone is far more anxious about staying healthy and protecting paychecks.
"How do you get hold of 7 million potential voters?" asked Catherine Turcer, executive director of Common Cause Ohio and a member of the coalition steering committee.
Well, here's how you try: They launched a grassroots campaign that included volunteers text messaging potential voters, including links to Board of Elections websites and answers to any and all questions. Through mid-April, they had contacted 220,000 voters through 800,000 texts.
They also picked up absentee ballot applications in bulk, divvied them up and posted them throughout neighborhoods across the state. On real estate lawn signs. Front porches. Book exchange boxes in front yards. Even nailed to trees in parkways, easy for passersby to grab without human contact.
"Most of the applications were grabbed by people walking past," commented Cathy Covarrubias, a volunteer who posted them on her tree in a Cleveland suburb. "I lost count of how many applications I printed off."
Laid bare, Turcer said, was the need for reforms to the mail-in voting process. That includes making absentee ballot applications available on the internet ("It's 2020!"), more staff for elections offices to process mail ballot requests, and software to help verify signature matches.
"I'm glad we'll have time before November to be really thoughtful about this," she said.